A Proud Past
Part I- The Origins of Army Aviation
Army Aviation traces its origins back to the American Civil War. Both Union and Confederate forces used hydrogen-filled balloons to direct artillery fire, marking the beginning of U.S. military aeronautics and of aerial support of Army ground forces. The Army also used balloons during the Spanish American War and World War I, but airplanes replaced balloons for most military purposes during the latter conflict.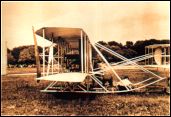 Army Aviation began in 1909 with the Army's acquisition of its first heavier-than-air "flying machine", an airplane built to Army specifications by the Wright brothers. During World War I, the Army's aircraft strength grew from a few dozen to more than 11,000 planes and the number of aviation personnel came to total more than 190,000. The Army Air Service was created in May of 1918.
After World War I, General William Mitchell and other Air Service leaders spoke out forcefully in favor of an independent air force. Since they envisioned aviation as a separate striking force, capable of independent operations, they opposed its remaining an arm of the ground forces.
Although Congress, as well as most Army leaders, rejected Mitchell's argument, the Air Service did become a separate combat arm, equal in status to the infantry, cavalry, and artillery. In 1926, the name of the air arm was changed to Army Air Corps, and then, in June 1941, the Air Corps and other Army air elements were merged to form the Army Air Forces, co-equal with the Army Ground Forces and the Army Service Forces.
During the 1930s, many Army Air Corps leaders became preoccupied with strategic air operations. Like Billy Mitchell before them, they advocated using air power independently of the Army ground forces to destroy enemy targets behind the lines of combat. This Air Corps emphasis on strategic operations disturbed some ground forces leaders, who believed their aerial support needs were being neglected.
Aerial support was particularly vital for artillery fire adjustment. Partly because Air Corps fire support aircraft were not always available, the chief of field artillery and other artillery officers became interested in using light aircraft organic to the artillery units.
The Army experimented with using small organic aircraft for artillery fire adjustment and other functions in maneuvers at Camp Beauregard, La., in August 1940. The tests were repeated on a larger scale in the Army maneuvers in Louisiana, Tennessee, Texas, and the Carolinas in 1941. The Army's "Grasshoppers," as these light planes came to be called, proved to be much more effective than the larger Air Corps planes used for the same purposes.
Following a final series of experiments with organic Army spotter aircraft conducted in 1942, the Secretary of War ordered the establishment of organic air observation for field artillery (hence the birth of modern Army Aviation) on 6 June 1942. It was this new World War II-era phenomenon with its few small single-engine spotter planes, organic Army Aviation, that eventually evolved into today's Army Aviation Branch. On the other hand, theorganization that had been the Army Air Service and the Army Air Corps continued through World War II as the Army Air Forces and finally became the U.S. Air Force in 1947.
Organic Army Aviation first entered into combat in November 1942 on the coast of North Africa. During World War II, L-4 Grasshoppers and a few larger L-5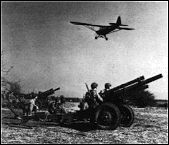 Sentinels were used to adjust artillery fire, gather intelligence, support naval bombardment, direct bombing missions, and perform other functions. Most training of both pilots and mechanics was conducted by the Department of Air Training within the Field Artillery School at Fort Sill, OK, although the Army Air Forces conducted some primary training of organic Army Aviation personnel.