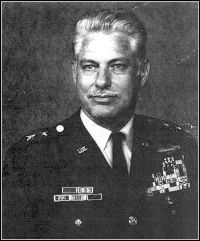 NAME: William J. Maddox, Jr.
NICKNAME:
RANK: Major General
BRANCH: Army
STATUS: Retired
SERVICE: 34 years
DOB: 22 May 1921
SERVICE INFORMATION
HOURS FLOWN: 10582
COMBAT HOURS: 3997
FLT/NCO CLASS: AGF P-7, 1946
SCHOOL: Infantry OCS
MILITARY SCHOOL: National War College
AVN DESIGNATION: Master Army Aviator
AIRCRAFT INFORMATION
AH-1G H-13 H-19 H-34 L-4 OV-1 U-21 UH-1H
COMBAT EXPERIENCE
Pacific - Philippines
Korea [2 tours]
Vietnam [3 years]
UNIT ASSIGNMENTS
Commander, US Army Aviation Center
Director, US Army Aviation, Pentagon
Commander, 164th Aviation Group, Vietnam
Commander, 13th Aviation Battalion, Vietnam
Chief of Staff, 3rd Armor Division
POSITIONS HELD
Commander
Director
Division Senior Advisor, Vietnam
Chief of Staff, Armor Division
Regimental S-3, Armored Cavalry
DECORATIONS
Distinguished Service Medal
Silver Star [4]
Distinguished Flying Cross [8]
Legion of Merit [5]
Air Medal [127]
SIGNIFICANT ACHIEVEMENTS
Advisor to King Hussein of Jordan
Managing Director, Arabian Helicopters, Saudi Arabia
Managing Director, Bell Helicopters, Asia
Still Kicking!!!