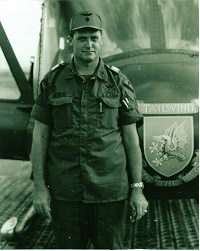 NAME: Bentley J. Herbert
NICKNAME:
RANK: Lieutenant Colonel
BRANCH: Army
STATUS: Retired
SERVICE: 20 years
DOB: 26 January 1932
SERVICE INFORMATION
HOURS FLOWN: 4000
COMBAT HOURS: 453
FLT/NCO CLASS: Fixed Wing Class #57/9, Gary Air Force Base, San Marcus Texas. This was the first class of Commissioned Officers that were trained by the United States Army. We had civilian instructor pilots with check rides given by military pilots. Rotory wing flight training, Ft. Walters, Texas 1958
SCHOOL: Infantry O.C.S. Ft. Benning, Georgia. October 1953
MILITARY SCHOOL: The Command and General Staff College, Ft. Leavenworth, Kansas
AVN DESIGNATION: Master Army Aviator
AIRCRAFT INFORMATION
L19 L20 U8 C45 H13 H21 H34 UH1
COMBAT EXPERIENCE
Vietnam
UNIT ASSIGNMENTS
Charter member of the instructors that started the all service Test Pilot School at Ft. Eustis Virginia. We were trained by Bell Helicopter Company at their factory.
1965-1966 Company Commander, "B" Company 15th Aircraft Maintenance and Supply Battalion 1st Air Cavalry Division. An Khe Vietnam, for the first year that it was in Vietnam.
1969 Deputy Commander, Support Command, 1st Air Cavalry Division Bien Hoa Vietnam.
1969-1970 Battalion Commander, 15th Aircraft Maintenance and Supply Battalion, 1st Air Cavalry Division, Phuoc Vinh, Vietnam.
POSITIONS HELD
Company Commander
Battalion Commander
Deputy Support Commander
All positions were held in the 1st Cavalry Division in Vietnam
DECORATIONS
The Legion of Merit
Distinguished Flying Cross
Bronze Star with 3 Oak Leaf Clusters
Air Medal with V device and fifteen Oak Leaf Clusters
Meritorious Service Medal
SIGNIFICANT ACHIEVEMENTS
Attended the Transportation Officers Advanced Class as a 1st Lt. and graduated number two in the class.
Commanded "B" Company of the 15th Aircraft Maintenance and Supply Battalion for it's first year in Vietnam. It is believed that "B" Company was the first company size unit to be tasked with recovering downed helicopters in a combat zone. (As related in general order #1567)